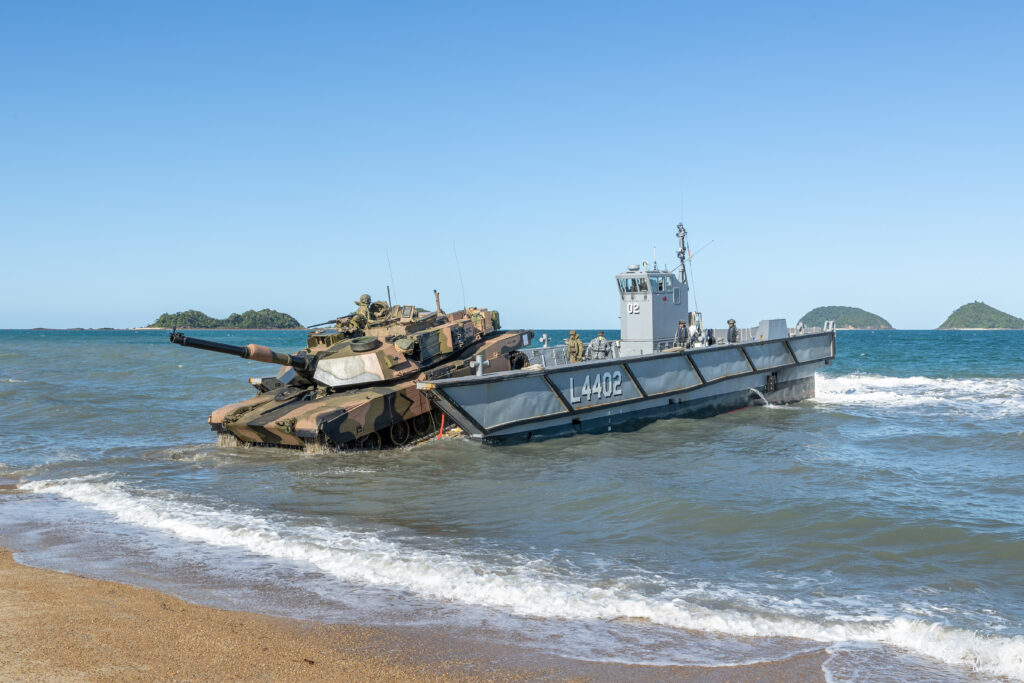 LHD Landing Craft (LLC) – Royal Australian Navy
Length:

23.3 meters

Beam:

6.4 meters

Speed:

22 knots

Engine:

MAN 2 x MAN D-2842 LE 402X diesel engines

Engine Power:

809 kW

Year:

Multi-Year

Waterjet:

MJP 650 MJP CSU

Config:

Dual

Shipyard:

Navantia
The LCM-1E is a class of amphibious Landing Craft, Mechanized (LCM) manufactured by Navantia who also build the LHD hulls. In Royal Australian Navy service these craft are purpose built for the Landing Helicopter Dock (LHD) and are referred to as LHD Landing Craft (LLC).
These landing craft are intended to deliver troops and equipment onshore where there are no fixed port facilities. They have the ability to be used Over The Horizon, which means that the LCM-1E can transport between the ship and the coast starting at a distance greater than that marks the horizon, i.e. greater than 20 nautical miles (37 km). To perform this type of landing, the LCM-1E are equipped with a radar navigation, GPS, gyro needle/magnetic and HF communications equipment, VHF and UHF.
Another important point is the speed and autonomy. The propulsion is by two engines MAN of 806 kW and two MJP 650 CSU waterjets, offering a speed of 22 knots without load and 13.5 knots laden, with a range of 190 nautical miles (352 km).
The LCM-1E incorporates a stern gate, facilitating the loading/unloading of rolling stock within the flood levee, not necessary the output of the front two boats to load/unload the rear, with a limit of 12 tonnes maximum for the transfer of vehicles one barge to another.
The watercraft enable the transport of troops and equipment from the LHDs to the shore including where there are no fixed port facilities. Credit, Royal Australian Navy.
Request Information
Request a quote, information or contact us.
Find Your Sales Rep
Get in contact with your local sales or service representative.