Marine Specialised Technology (MST) Selects MJP Waterjets for UK MOD Gibraltar Squadron Contract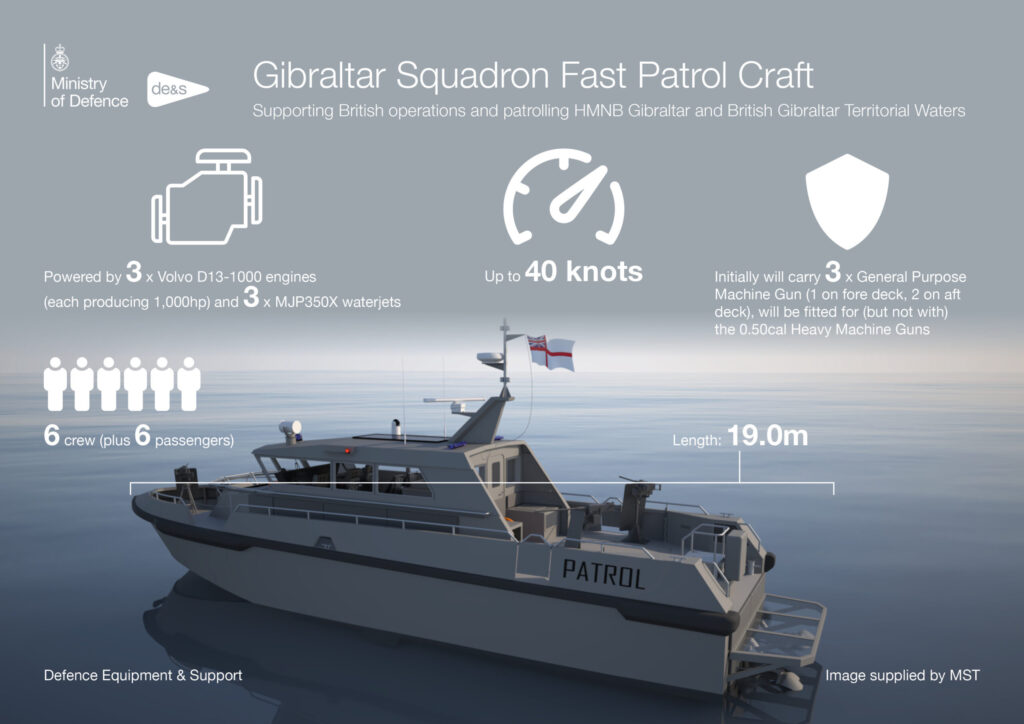 The two 19-meter fast patrol craft for the Gibraltar Squadron will be built by British company, Marine Specialised Technology (MST) and will feature triple MJP 350 X Series waterjets and Volvo D13-1000 (1,000 hp each) engines.
The two new boats will replace HMS DASHER and HMS PURSUER the Gibraltar Squadron Fast Patrol Craft and will be used to patrol the HMNB Gibraltar and British Gibraltar Territorial Waters.
Project Manager for DE&S Boats Team, Mark Milsom, said: "These boats will provide the Royal Navy Gibraltar Squadron with a modern fast and effective capability for fulfilling their important role."
Adam Mills, Marine Jet Power Technical Sales Manager, said: "The MJP X Series jets are particularly well suited for this project because of the high-speed requirement. With the predicted speed of 40 knots the MJP jets will offer high performance and efficiency as well as excellent maneuverability."
Construction of the two boats began in July and MJP will begin delivering waterjets later this year.
About X Series Waterjets
From the leaders in mixed flow technology comes the next generation of waterjet propulsion. Purposely designed and engineered for demanding, high speed applications, the X Series is the product of expertise and experience, resulting in a premium pump that improves performance and efficiency. Taking the highly successful and proven MJP product range one step further, the X Series provides users with more power in a lighter unit that burns less fuel and extends range over comparable alternatives, thereby reducing cost of ownership.
About Marine Jet Power AB
Headquartered in Uppsala, Sweden and owned by Verdane Capital, Marine Jet Power is a global leader in waterjet propulsion providing diverse applications – governmental patrol craft, service vessels for wind farms and oil industry, passenger vessels and pleasure yachts.
For further information visit: www.marinejetpower.com
###
Media contact:
Marine Jet Power AB
Kelsey Nemeth
kelsey.nemeth@marinejetpower.com
+1 704.953.6821