MJP APPOINTS STONE MARINE SERVICES AS SERVICE AGENT IN AFRICA
Uppsala, Sweden (Aug. 31, 2023) – Marine Jet Power (MJP), a global leader in the waterjet propulsion market is pleased to announce the strategic partnership with Stone Marine Services, appointing them as the Authorized Service Agent for MJP across the vast African continent. This collaboration covers regions including Western, Eastern, Southern, and Central Africa, reinforcing MJP's commitment to delivering top-tier waterjet solutions and unparalleled customer support worldwide.
With a shared dedication to excellence, MJP and Stone Marine Services are poised to revolutionize the maritime industry in Africa. This strategic appointment will empower ship owners and operators throughout the region, offering them access to an array of comprehensive services including Waterjet Servicing, Repair, and Spare Parts Supply.
The strategic location of Stone Marine Services in Africa represents a pivotal step forward in MJP's mission to provide tailored support to its growing customer base. By leveraging Stone Marine Services' proven expertise and extensive network, MJP aims to ensure that watercraft equipped with its innovative waterjet propulsion systems continue to operate at peak performance levels.

One of the cornerstones of this partnership is the deployment of skilled engineers who are not only highly trained but also certified on MJP equipment. This guarantees that vessels operating in the demanding African maritime environment will benefit from efficient maintenance and expert care, maximizing operational uptime and minimizing downtime.
"We are excited to collaborate with Stone Marine Services in this strategic capacity," remarked MJP's Global Director of Sales, Robert Magnusson. "Africa is a crucial market for us, and we are confident that this partnership will further enhance our ability to meet the diverse needs of our customers in the region. Together, we will raise the bar for waterjet propulsion solutions and customer support."
Ryan McIntyre, Stone Marine Services, Managing Director, added. "We are delighted to be appointed the authorized service agent for Marine Jet Power in Africa. With numerous vessels already equipped with MJP propulsion systems in the region, we look forward to supporting operators' growing needs as MJP increases their market share. Being aligned with an innovator in the field of Waterjet Solutions is an exciting development for Stone Marine."
Stone Marine Services, with its reputation for excellence and a track record spanning decades, brings an unmatched level of understanding and proficiency to the partnership. The company's strong presence across Africa positions them as the ideal collaborator to support MJP's goals in this dynamic market.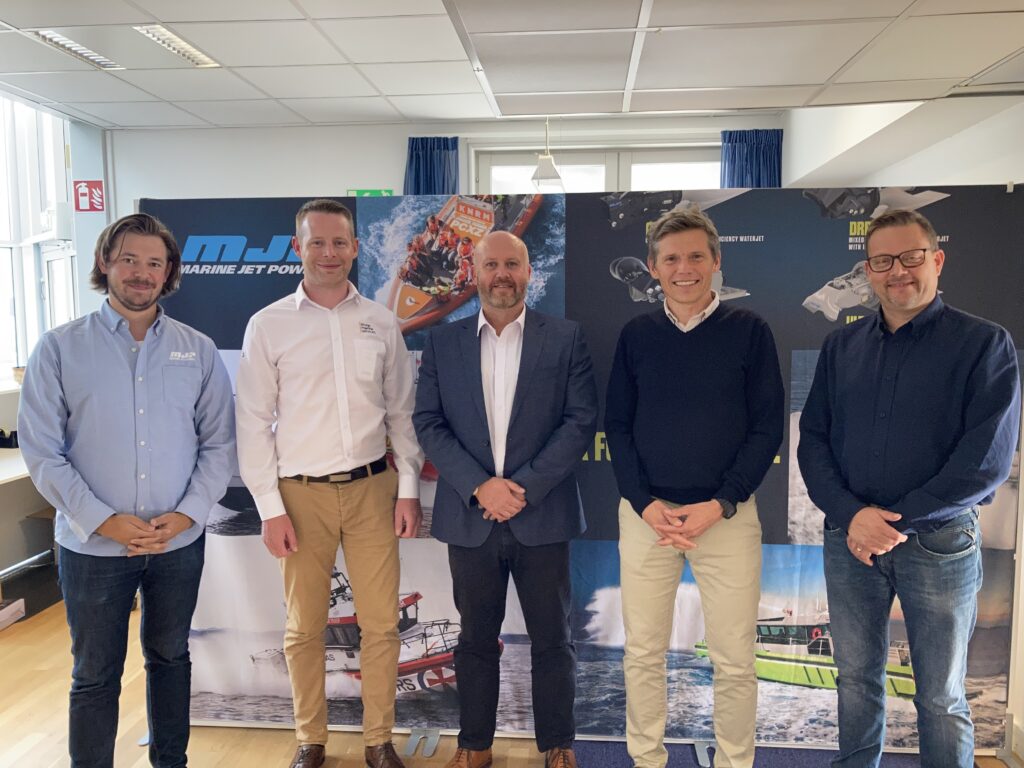 About Marine Jet Power (MJP)
Headquartered in Uppsala, Sweden and owned by Verdane Capital, Marine Jet Power (MJP) has been redefining the waterjet market with constant innovation and unsurpassed quality since 1987. MJP's proven stainless steel, mixed-flow and aluminum, axial-flow waterjets are used in many diverse applications, from fast military craft and passenger vessels to luxury yachts and workboats worldwide.
For further information visit: www.marinejetpower.com
For further information about Stone Marine Services visit: www.stonemarineservices.com
###
MEDIA CONTACT
Marine Jet Power AB
Kelsey Nemeth
kelsey.nemeth@marinejetpower.com
+1 704.953.6821